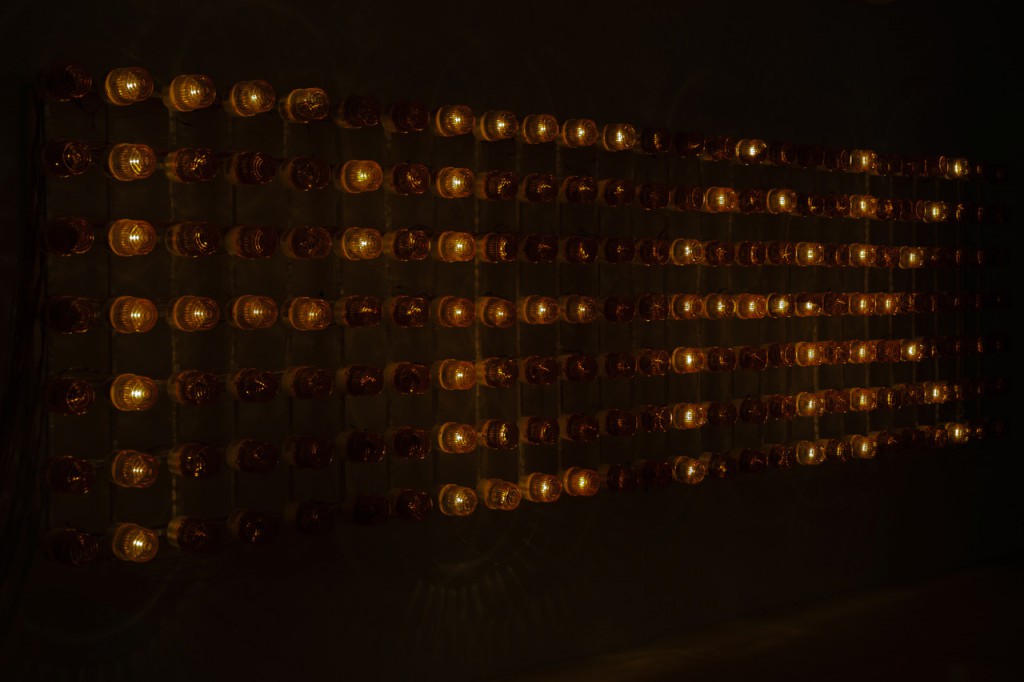 What You Read 2016
Rotating Lamp, Iron Frame and Electronic System
H150×W625×D30 cm
©Bagus Pandega
Photo credit: Ario Wibhisono for ROH Projects
Bagus Pandega Solo exhibition Viewing room
「A Pervasive Rhythm」
2018/06/09(Sat)〜07/14(Sat)
Close :  Sun, Mon, and National holidays
Open : 11:00-18:00 / 11:00-20:00 (Fri)
Reception : 2018.06.09 (Sat)   18:00-20:00
The artwork consists of 450 pieces of turn signals from motorcycles, and it is hanged in the center of the room, where DMX (Digital Multiplex System) controls the animation of these lights showing individual eyes selected from several Indonesians and Japanese, and the 4-channel audio is generated by modular synthesizer system.
Turn signal is used to send information to pedestrians and other vehicles, that the light indicates direction a driver is turning to. The electronically transmitted information is not about an action currently undertaken, but rather, a future action. It informs others to be cautious with surrounding traffic for their safety.
Indonesia consumes a large quantity of Japanese automotive products and they widely supply citizens as their daily commodities. The strong demand in the market each year is becoming phenomenon as a good proof of Indonesia's growing economy. However, overflowing vehicles cause uncontrollable chaos in every street corner and it eventually leads our anxiety towards the environment such as air pollution and unwanted noise.
The 450 turn signal lights collectively play a random loop of animation while shaping the form of the eye. The eyes are multifunctional to receive information and to express our emotions, almost work as a window to our soul. They help delivering messages to others in various ways. For many centuries in human history, the symbol of an eye appears in numerous objects seen in churches, temples and even on banknotes, as if it is the most important sensory organ in human body. Many interpretations such as: "Clairvoyance," "Omniscience," "Intelligence," "Vigilance," are what eyes can be metaphorically used in various contexts, while "Respect," "Modesty," "Submission," "Judgment," and "Authority" can be conveyed and seen in the cultural context.
Human interaction occurs between two or more people/objects when the relationship and influence may be established. The eyes non-verbally describe information, and physical interaction in social environment creates more dynamism, and as a result, combinations of simple interaction can lead to sometimes, unintended effect.
The chaotic noise you hear in this installation is produced by modular synthesizer system and generated by random frequency. The whole sound also interacts with the lights and gives feedback to the eyes of animation lights, as a form of an invisible and random interaction. The artwork showcases a study about how humans interact directly and indirectly with each other, seeking the future of their interaction through the animated eyes by the turn signal lights. In the wake of technology development, we are capable of identifying objects better and clearer in front of us, but the sense of insecurity and anxiety is still inevitable.