Artist: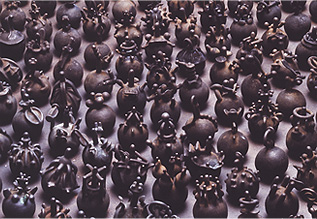 KOBAYASHI Kiyoshi solo exhibition
2004/06/05(Sat) – 6/26(Sat)
Born in 1964. 1990 MA, Tokyo National University of Art and Music, Tokyo.
Passed away on 26th December,1994.
The number of 5878 pieces of works left behind – which were made in last 5 years of his life.
Basic size of the work is approx. 28-33mm.
No.0 to 1083 are made of Bronze, No.1084 to 3947 are wax prototypes (exclude No. 2588, 2611, 2612, 2613, 2614, 2648, 2724, 2736, 2784, 2905, 2921, 3000 -bronze), No.3948 to 5879 are bronze, and No.5877-5878 are left as wax prototypes before cast in bronze.
His nickname was "Dango-ya (dumpling shop)", as he was always rolling up the wax into a ball.