Artist:Etsuko FUKAYA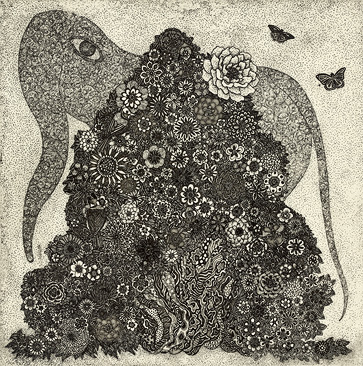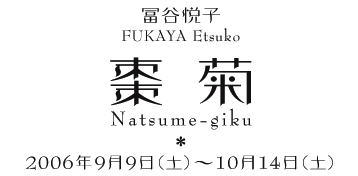 Our upcoming exhibition will be a solo show by FUKAYA Etsuko, titled 'Natsumegiku (Jujube tree- chrysanthemum)', which will open on 9/9 (Sat.).
FUKAYA was born in 1981 and is currently enrolled as a graduate student in Tokyo Art University's printmaking department. This will be her first solo show.
FUKAYA's work's detail and precision are of magnifying-glass caliber, which she produces using the high fidelity medium of etching. She delves into etching's technical possibilities and imbues the sheet with thin lines, creating physically small but grandiose spectacles. The animals, fish, insects and plants
she depicts are treated in a way that draws out their fantastic and fairytale-like aspects, while also depicting the cold radiance of indifference that much of nature appears to have towards man. Her ability to perceive and visually articulate these qualities makes her a rare seer and artist.