Artist: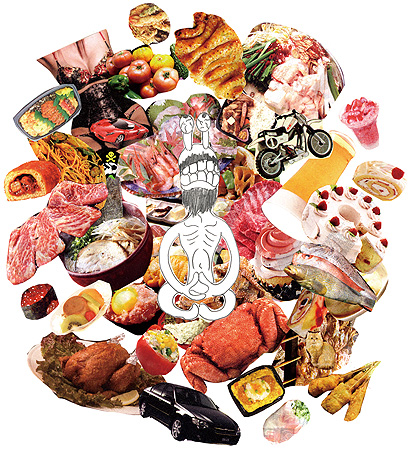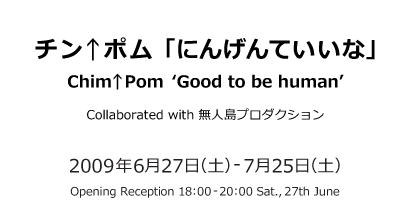 For their second presentation of "Chim↑Pom + Mujin-to production -drift-" project, Chim↑Pom has cast ashore to YAMAMOTO GENDAI. This time they have come up with the phrase 'Ningen te iina = how good it is to be human'. Along with this complete affirmation of being human, by using 'food' as an keyword, they will present two installations of 'kurukuru party' and 'the making of *sokushinbutsu = 'Living body Buddha' (*A monk goes on a fast while meditating and the dies to become a mummy)
In 'kurukuru party', Chim↑Pom is reproducing and unveiling a party they have held before. An all night drinking 'takunomi' is something everyone experiences once in their lives. Wasting food may be the most luxurious thing in their unstable lives, the best joys and the most foolish horseplay could, in a way be taken as a decadent elegance of today.
The plastic food samples established mainly in Japan are presumably an icon of wealth, and in this exhibition they will help revive a party once held, modeling the scars of the crazy banquet. Images of the actual party are shown on the accompanying video.
Positioned as a polar opposite to this gluttony of food and hedonism 'kurukuru party', is 'the making of sokushinbutsu' indicating starvation and 'satori' - a spiritual awaking.
This project presents the very 'making' of Motomu Inaoka, the handworker of Chim↑Pom, becoming a 'sokushinbutsu' in the context of traditional craft.
In Inaoka himself bears a resemblance to Buddha, perhaps this is why he presents himself as a progressing sokushinbutsu, so to speak, a living sculpture. The final aim after the exhibition, after the ascetic practice, is to make a sculpture of his emaciated figure.
In Buddhism, a monk usually goes through several stages of asceticism to become a sokushinbutsu. However, in this exhibition it will be performed safely and with no threat of life, for as Chim↑Pom says 'after all it's only a joke, '.