Artist:Ruriko MURAYAMA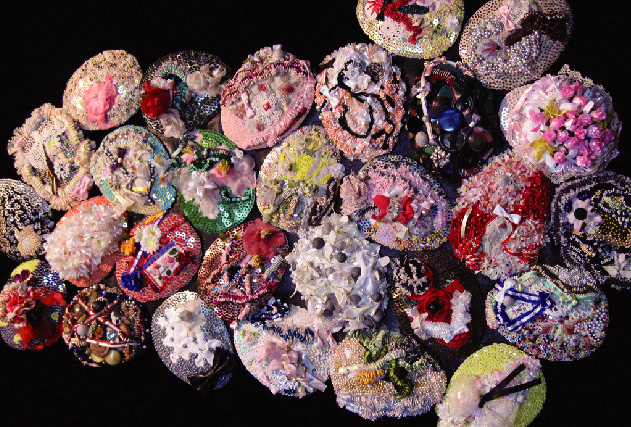 We are pleased to present Ruriko Murayama's new three-dimensional works at YAMAMOTO GENDAI.
The black fabric hanging simply is in fact a cloak, the inside of which is filled with a myriad colors, textures, and shapes made from beads, ribbons, artificial flowers, spangles and buttons.
Throughout its long history, the cloak has been used around the world as a garment mainly to protect people from inclement weather. It later came to symbolize both luxury and power, and found its way into the world of fashion. However, nowadays it is more likely to be worn by heroes and supermen or even the antiheroes of the dark side such as Dracula, phantom thieves, wizards and witches.
The colours flood the inside of the pitch-black velvet, like moss growing on the cloak without an owner. The velvet seems to increase its beauty mysteriously, and emerges like a glittering ghost.
The large fabric work (4m x 50 cm square) is laboriously made by stitching 7000 small pieces of silk, chemically dyed by the artist. The crash of colours holds such power that it paralyses one's ability to process visual information, confuse or arrest the function of the brain.