Artist:Erina MATSUI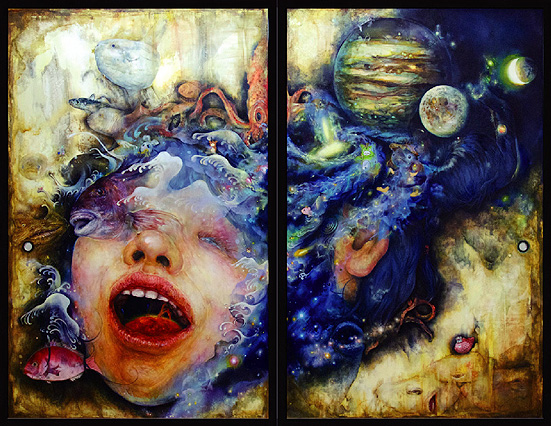 We are pleased to announce Erina Matsui's solo exhibition One-touch time machiiiine! from April 3rd to May 1st 2010.
Two and a half years since her last solo exhibition in Japan, Matsui will present a comprehensive and spectacular view of her new works including a painting on fusuma (sliding doors) titled "MEKARA UROKO de MEDETAI!" shown in her graduation exhibition of the Tokyo University of the Arts (Graduate School of Fine Arts), small toy-like objects resembling "Daruma doll (a tumbler)" and "baby Mobile", and documentary pictures of an ongoing performance since 2007 called "It can go anywhere" that takes place around the world.
All of Matsui's works are self-portraits. Shockingly deformed expressions, numerous characters scattered around the canvas, and realistic presentation of glittering cosmos and ocean on the background of her painting attract us and instantly take us back to our childhood's infinite imagination. Facing the universe found in her wide opened mouth and intentionally closely depicted running nose and downy hair, we are dragged into her extraordinary world immediately.
Matsui is interested in the conversation between herself and others or within herself and how the conversation begins and expands. The comical facial expressions and well-known characters in her paintings capture the viewer's attention and prompt conversation, which Matsui considers to be very important. Such bizarre expressions is referred to as "Hen-gao", a term emerged from the younger generation's popular culture. Laughter led by her painting is simply cheerful. The excess depiction of the "not-so-pretty" things in her work trigger a more opened communication in our day where social interactions could be superficial, and this openness may be something we all fundamentally seek for. Matsui's self-portraits filled with innocence and simplicity involves not only audience in the art community but also the entire society we live in.