Artist:Osamu MORI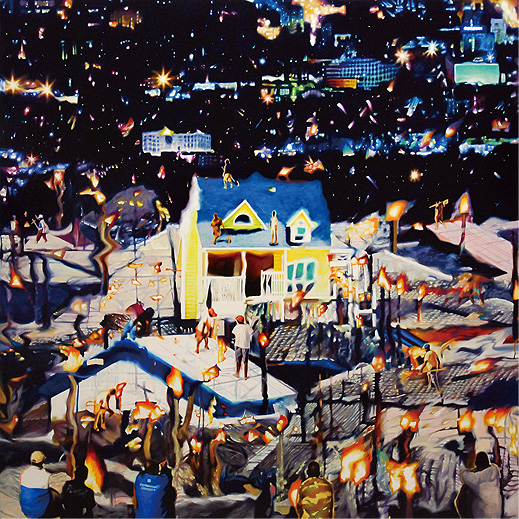 Kei Imazu(b.1980), a VOCA exhibition prize winner, is known for her semi-abstract painting style that express a characteristic limpid world created by combining motifs of various landscapes and human figures.
Imazu randomly collects photographs from the Internet and magazines to construct paintings by combining those unrelated images in different ways. During this process, she looks for the shifting of values and intends to reveal the contradicted things in the world. A painting that at first glance appears to be a gorgeous city view is in fact site of a garbage dump; and an illuminated night view, when looked closely, is actually scenery after a flood disaster. With beautiful colors, Imazu depicts the trivial contradictions hidden in daily life that we unconsciously accept.
"Light" is the basic element for painters. But instead of capturing the light in whole, Imazu outlines the highlights that surround the subjects and create blurred areas on the canvas. In doing so, the viewer is first caught by the expression of the beautiful lighting, and later on, the drama happening inside the picture expressed with depth and transparency gradually reveals itself.
While technically expressing the beauty of light in oil painting, by depicting the dark side and contradiction of the world, Imazu's work dodges the viewer's expectation and aims to shift the standard of common values.