Artist:Tsukasa OHTAKE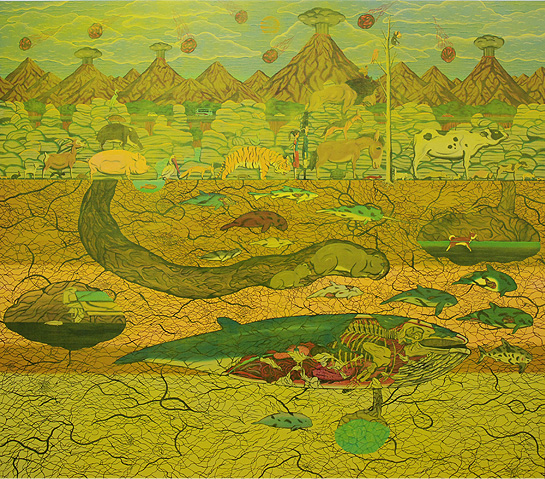 We are pleased to announce the solo exhibition of Tsukasa Ohtake "VINYL" from January 9th to February 6th 2010.
Ohtake is a Nagoya based artist works mainly with two-dimensional works. He originally studied traditional Japanese painting and depicted landscapes and plants with natural mineral pigments. However, he felt uncertain about the motifs and the material in connection to daily life, and gradually shifted his subject matters to what felt more real, necessary, and fun. During this time, he questioned the kind of satisfaction and the sense of superiority from using such expensive and time/labor consuming material. Ohtake now works mainly with acrylic paints and depicts human life associated with images and behaviors of personified animals.
Three years since his last solo exhibition, Ohtake will present new paintings and paper cutouts. He is interested in the odd factors in daily life as he says, "I am interested in strange relations and delicate situations somehow or another slid in to our lives, which we accept unconsciously"
In "Medusa" (2009), for instance, both worlds of above/underground are depicted as if there is a cross section of landscape in nature. Scenery with colorful personified bugs is obviously excessive, but it causes a sense of "realness" in this work. Ohtake unifies his collections of odd sceneries and bizarre objects by placing them into a vinyl bag. It is an aggregation of elements that originally not meant to be beside each other, or else scenes overlooked in everyday life. And by emphasizing such "disturbance", he forms a peculiar view toward the world.
In his new paper cutout "CAROL" (2009), a skeleton girl with braids stands among a group of deformed animals. The surface of the work is partly covered with mat acrylic sheet, and in doing so, the covered area appears clearer and the rest blurred in contrast. This gives depth to a two-dimensional picture and changes its atmosphere to something more obscure.