Artist:Kohei KOBAYASHI, Yasuyuki NISHIO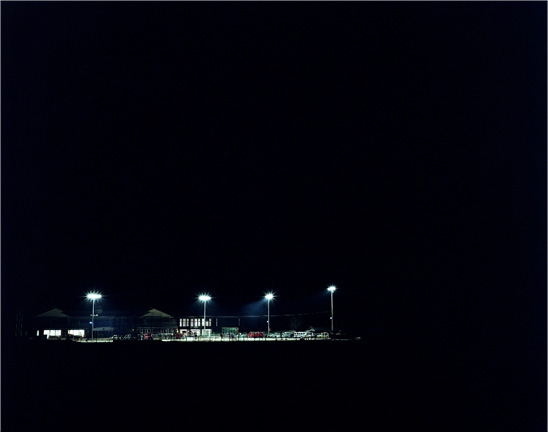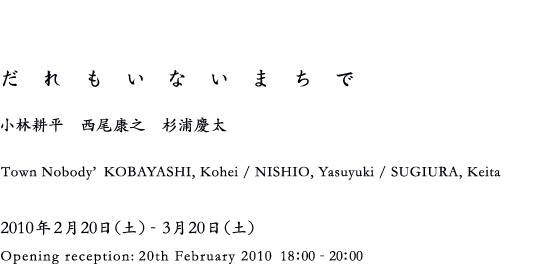 We are please to announce our group exhibition "Town Nobody" from February 20th to March 20th 2010 featuring works by Kohei Kobayashi, Yasuyuki Nishio, and Keita Sugiura.
A video work "1-10-1" by Kohei Kobayashi, "Anthill - Diorama" by Yasuyuki Nishio, and a series of photography "Planet" by keita Sugiura will be presented in this exhibition. All the works feature a specific environment that has no signs of people, whether it is a dioramas city or sceneries of a small town. By gathering these works that have a common uninhabited surroundings, we attempt to raise questions about us human beings.
Kohei Kobayashi's "1-10-1" is a monochrome and soundless video work that captures dioramas of districts made of white paper. Even the slightest signs of people are erased from this town, and common locations that seem to be residences, amusement park, warehouse, and public garden are turning into somewhere unfamiliar and unidentifiable. As the camera meander around to gradually reveal a labyrinthine environment, we may feel as if being approached by an enigmatic dream.
Yasuyuki Nishio's "Anthill - Diorama" is an installation of a diorama city made with the artist's unique method called "negative casting", where Nishio first creates a concave mold by pressing his fingers against clay, then pours plaster into it (therefore the work results with a surface that is covered with numerous fingerprints of the artist). The rescaled towers and buildings range from about one to one and a half meter high form a heteromorphic town of three square meters. It is so to speak the diorama "nest" of human being, and structures such as the numerous windows of the buildings that swell towards outside in the same shapes of Nishio's fingers are the trace his body left behind. When the actions of human being observed from a macrocosmic view, we may come to feel the wriggle motions of lives condensed inside the buildings.
Keita Sugiura is a vigorous artist lives in Okayama and mainly works with photography. Following the theme of this exhibition, works from the "Planet" series will be presented. This series capture things at night in a country town; mercury lamps, vending machines, and filling stations that operate with man-made lights emerge from the enormous darkness. These familiar sceneries that could be found in every country town seem to calmly convey a grief about the homogenized modern society, as indigenous signs are being exterminated by the pursuit of convenience.
No one exists in the works of these three artists. However, the constructions that can only be done by human beings reveal our existence conspicuously. We may feel the tension as if being wholly swallowed when standing face to fact with the works. Left alone in the town with nobody, what will we "hear" from the crevice of a soundless world?