Artist:Keisuke TANAKA, Osamu MORI, Shinichi HARA, Yasuyuki NISHIO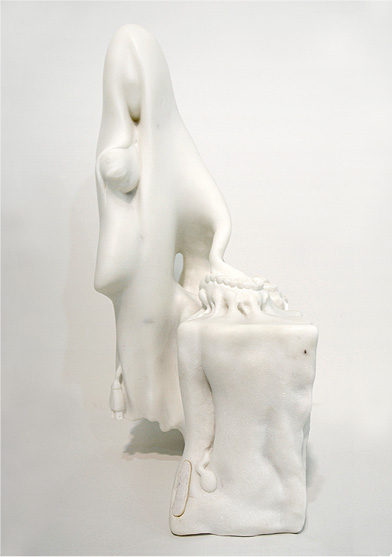 YAMAMOTO GENDAI is pleased to announce a group exhibition Subjective Objects from September 3rd through October 1st 2011.
To contrast our February group show VISIONS/RECOLLECTIONS, this exhibition features three-dimensional works of various media and methods by our representing artists and an invited artist.
It was only after the modernization of Meiji era when the concept of"sculpture" was first brought to Japan and artists started to explore the new means of self-expression to leave behind Buddha statues, idols or Iki-Ningyo (lifelike dolls of Edo era) or so-called Misemono (exhibition of peculiar objects and spectacles).
In Japan, Auguste Rodin has long been especially a major influence in modern sculpture. In recent years, Sculpture revived in Japanese contemporary art upon the rise of "figure" with its origin in the subculture, succeeding minimal art and Mono-ha. However, Sculpture and other three-dimensional art have become so diverse and can no longer form a movement, a style or a school like before. "Two-dimensional" and "three dimensional" art have become mere terms for categorization and ceased to be concepts to discuss contemporary art.
While one could say that so-called Sculpture, whose conceptual existence is nearly extinct, there may still be a possibility to mutate. Works by Osamu MORI, Yasuyuki NISHIO and Katsuyo AOKI are rather primal and indigenous, and their techniques and ways of thinking are often excessive, which may have capacities for an extraordinary leap into the history of art.
These artists intentionally dare to choose specific materials or methodologies instead of working across genres like most contemporary artists, and have been working in Japan, this unique location at a cultural periphery.
We hope this exhibition to be an opportunity to reconsider Sculpture, and observe new currents in the works of participating artists.