Artist:UJINO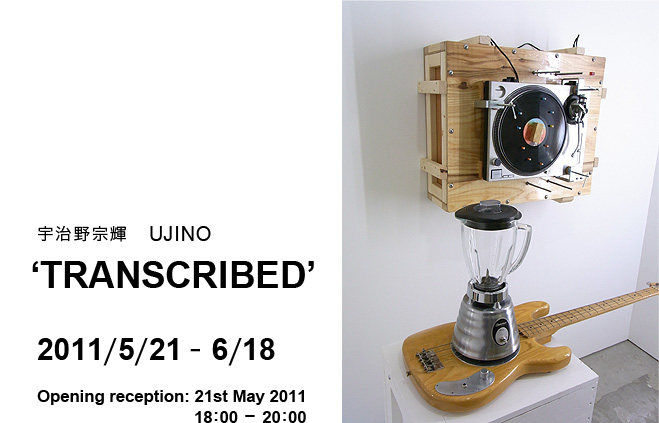 YAMAMOTO GENDAI is pleased to announce TRANSCRIBED, an exhibition by UJINO from May 21st through June 18th 2011.
 This exhibition is expected to be the first solo presentation by the artist in Japan in the last 7 years after 2004. For the occasion, UJINO extends his own longtime "research on material world" as he calls, and present two new series as well as several new works from the acclaimed project The Rotators.
 Growing up in Nerima Tokyo during the late 1960s, UJINO frequented a nearby boulevard to see automobiles that come from Grand Heights, the US Army's housing area in the neighborhood. His favorite at the time was Mustang. He recalls these days when he discusses the beginning of his artistic "research on the material world". American culture, influences from automobile and machine industries, and consequential imagery of the western culture later became an essential part in the development of UJINO's artworks.
 In the 1990's, he created a series of sound sculptures such as LOVE ARM series assembling electrical home appliances and decorative lamps from "decotra", excessively decorated art trucks uniquely developed in Japan. He also participated in a number of live performances using these sound sculptures.
 
In 2004, he started The Rotators project as an advanced form of sound sculptures. The Rotators as a set is an automatic rhythm playing system that consists of motor-driven electric appliances orchestrated by the Rotatorhead, a unit of modified record turntables and vinyl discs. From hairdryers, blenders to power drills, a variety of electronic appliances are integrated and laid out on a platform such as a dining table, while naked bulbs and home lams decorate the project. For exhibitions abroad, UJINO purchases most of these components on the locations, as these items have already reached their maturity as mass products and are widely available internationally. The Rotators series has been widely acclaimed, and lead to a number of exhibitions and live performances outside Japan.
 UJINO's works may be discussed in relation to the Futurist artist and musician Luigi Russolo, or the works of Neo-Dadaists who saw a rise of an alternative and new nature in the overflowing industrial products and junk and attempted to identify a reality of the time. However, what arrived upon the maturity of industrial society was the delirium of mass consumerism that swept our life at an unprecedented scale. Through his works, the artist  sums up the 20th century and critically project an interpretation of the world, as if it is Naturalism in the society of mass consumption, by assembling a number of mass products that were born and completed in the middle of consumerism which is about to collapse in the 21st century.
 In this exhibition, UJINO is going to present a new piece from The Rotators series, along with two brand new projects. The Rotators will be updated developed as a self-contained unit to be installed on its own crates attached to the wall. Updating from the previous versions, he intends to turn The Rotators to a universal system that is free from double-barreled "domesticity".
 For the new project, UJINO creates a series of panel and sculptural pieces by combining decorative components like truck lamps that reflect the imagery of American culture, and mass products from Japan's so-called"modernization" period under the influence of the United States. The exhibition will also include an installation that the artist constructs as an alternative natural environment by integrating plant motives found on post-war American and Japanese mass products.