Artist:Keisuke TANAKA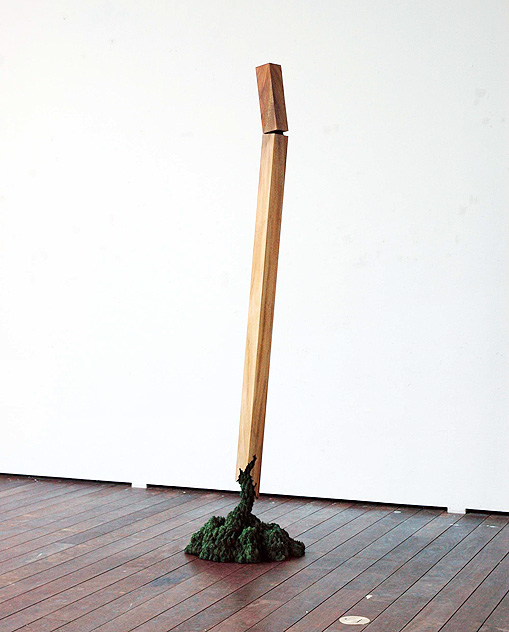 z
Keisuke TANAKA solo exhibition "KEI KEI"
2012/10/06(Sat) – 2012/11/02(Fri)
YAMAMOTO GENDAI is pleased to announce KEIKEI, a solo exhibition by Keisuke TANAKA opening on October 6, 2012.
While representation of figure has long been a central interest in wood sculpture, Keisuke Tanaka creates sceneries of forests and mountains in his sculpture. These sceneries are carved in wood pieces that were once a part of these sceneries.
Tanaka's practice is always based on the theme of "human life". In response to his self-questioning of "what sculpture is", the artist sees sculpture as "a device that erects the world and accommodate you inside to reflect on yourself".
Using lumber that is almost equivalent in size to the standard columns in Japanese wood houses, Tanaka began to wonder that a column standing straight up maybe an illusion, and felt that he may reach an answer of his question once he accepts such appearance of a column as an illusion. "The world is tilting."
In one of the new works Tenkei (2012), one will find a landscape with two holes carved on the inner edge of a "frame" shape. Tanaka says "this is an imagery of the world of human perception (the scenery) situated on the frame, while the scenery comes from outside the frame and then disappear through the holes to outside again. I wish to present an opportunity to look at truth that despairs us and illusions that maybe hope".
After his solo show in 2008, this exhibition Keikei (tilted scenery) will be the latest exhibition of new works by Tanaka, who captures the "sceneries" of the world through his peerless perspective.