Artist:Tiger TATEISHI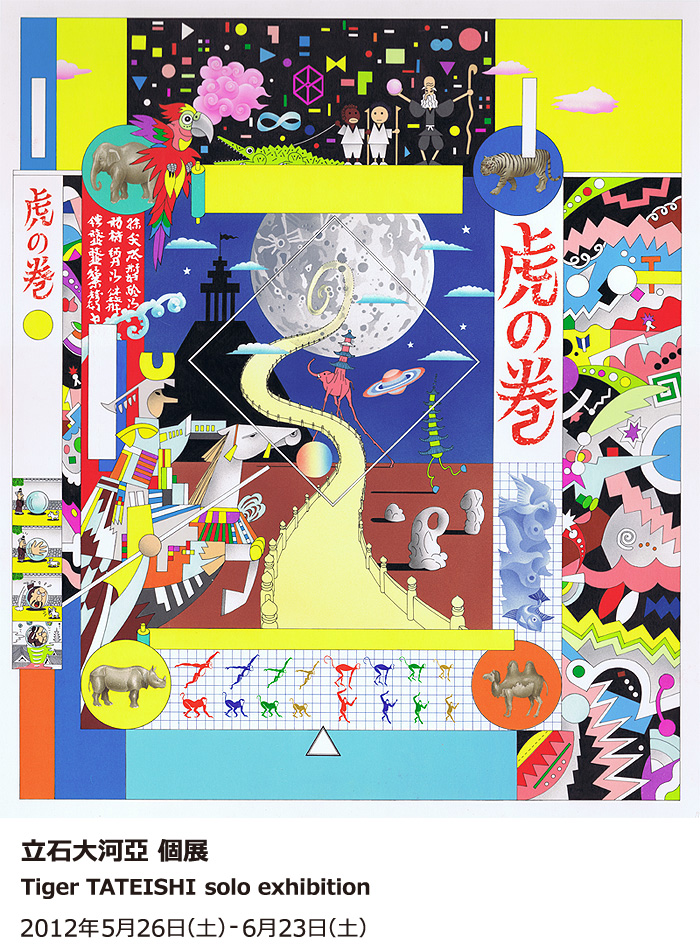 YAMAMOTO GENDAI is pleased to announce the solo exhibition of Tiger Tateishi, on view from 26th May through 23rd June 2012.
After his debut at the Yomiuri Independent Exhibition in 1963, Tateishi founded "The Institute of Tourist Art" with Hiroshi Nakamura. His obsession with tableaus (paintings) received much attention in the age of the Anti-art movement.
Tateishi started drawing cartoons in 1965, and in 1967, his nonsense super avant-garde comic "Konnyaro Shokai" became serialized in The Mainichi Junior Newspaper (the main character later appearing as a cat in the works of the pioneer comic artist, Akatsuka Fujio). He also won the newcomer prize of The Weekly Asahi, which led to new series in other magazines. In 1968, two comic collections were published, making him practicable as a professional, but he felt a sense of threat in getting popular and gaining money, and started to think about moving overseas.
In 1969, with the belief that "all fine paintings are single frame comics", he came up with a new painting that has the essence of a narrative and time, and divided up the images. Later that year, he moved to Italy, and became the designer of Olivetti from 1971 to 1974. He also worked on illustrations for major publishers of Italy, such as Mondadori, Rizzoli, and Fabbri, while working as an artist. One of the chief editors advised him to start up his own illustration company, but he sensed the threat of success again, and returned to Japan temporarily.
After returning to Japan in 1982, he started to draw cartoons again, aside of paintings. He worked strenuously on various medias such as picture books, ceramics, picture scrolls, hanging scrolls and paintings until his death in 1998. It is hard to believe that his works have added years, as his unique works seem very vivid to us and there are always new discoveries. Also, although it is a cartoon, it is a "silent cartoon" not relying on words, so speakers of any language can understand the story the painting unfolds.
Tateishi's works are very popular even after his death, with works exhibited in the Yokohama Triennnale last year. This year, his work will be exhibited in an exhibition at MOMA, New York.
In this exhibition, the "Tora-no-maki" cartoons that play an important role in his career will be exhibited. All 98 of the precious original pictures published in the "Tora-no-maki" in 1982 will be on display. The artist once said "I am confident that "Tora-no-maki" has a considerably meaningful effect as the expression of comic, as the presentation to the world of SF, and as the assertion of my work as a painter". Please take a look at the spectacles of the super multidimensional world that exceeds the established framework of comics.
Also on view will be three large paintings, expressively composed in the shape of comic strips.