Artist:Kei IMAZU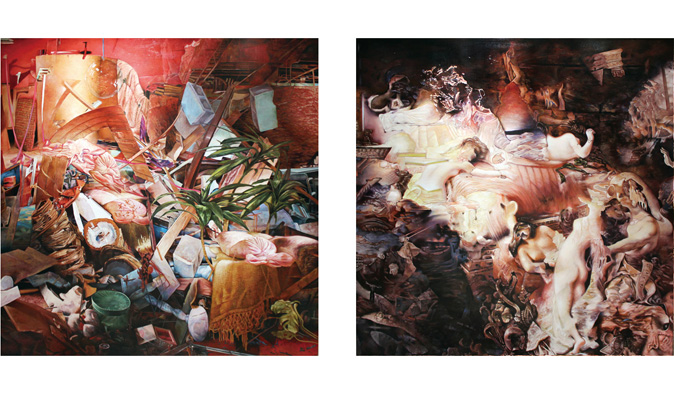 Kei Imazu received B.A in Oil painting and M.A. from Tama Art University. She actively presented her works at a number of galleries in Japan while she is in school, and received an encouragement award of The 5th Kinutani Koji Award this year.
Imazu visualizes imaginary world by painting scenery created after digitally reassembling images collected from the internet, magazines or her own living space that are individually irrelevant and never coexisted in reality. In her pervious solo exhibition Flash, the artist attempted to achieve dual layered picture in her painting, revealing the effect that vivid coloring and extreme contrast make a viewer perceive the light first, and subsequently recognize the catastrophic elements in the background like collapsed buildings or debris reminiscent of scenes of a disaster.
In the new exhibition, the artist makes compositional references to precedent paintings such as Delacroix's Death of Sardanapalus, Manet's Luncheon on the Grass and Hiroshige Utagawa's The Fifty-Three Stations of the Tokaido, and arranges various motifs over them in attempt to alter the meaning of each source. Dearth of Sardanapalus portrays the moment when Sardanapalus, the last king of Assyria is being overthrown by the rebel army, however, Imazu's work of the same title in this exhibition consists of junks like concrete blocks and lumber pieces all over the picture instead of the figures that appear in the work of Delacroix. While one may interpret that the tragedy of the King of Assyria has been replaced by a catastrophe of today, the placement of motifs as mere colors ignoring the integrity of dessin also suggests the characteristics of Delacroix paintings constructed by arrangement of colors rather than lines.
Jeff Wall was also interested in a "remaking" of an existing image, a sort of mannerist attitude toward it, using actual sets and photography. Imazu, on the other hand, picks out motifs from the web and attempts to bring the subject back onto the "painting" once again.
By incorporating and reconstructing a historically significant painting as a constitutional layer in each work of her in this exhibition, Imazu attempts to reset the meaning of the original painting, revealing its technical elements like composition and color placements, and explores what emerges from the newly introduced motifs.