Artist:UJINO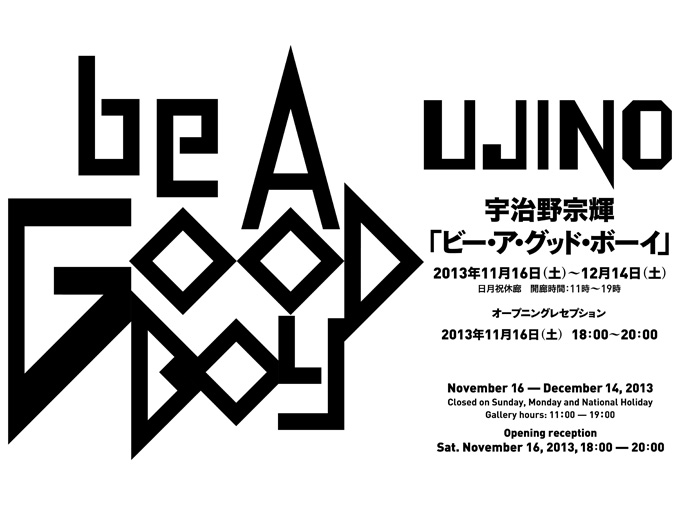 UJINO solo exhibition "BE A GOOD BOY"
2013/11/16(Sat) – 2013/1214(Sat)
30th November!
Gallery Conversation
UJINO × Minoru Hatanaka
POP/SOUND/ART
and UJINO Live Performance
YAMAMOTO GENDAI is pleased to announce a gallery talk session by UJINO and Mr. Minoru Hatanaka (Chief Curator, ICC) on Saturday, 30th November. In this conversation the two will discuss everything about the work of UJINO, across wide range of topics from music to pop culture and art. Before and after the session, UJINO will give a special short performance with his latest work from Machine Theater series.
14:30-17:30, Saturday, 30th November 2013
14:30- UJINO live performance #1
15:00- Conversation with Minoru Hatanaka (Senior Curator, NTT InterCommunication Center)
17:00- UJINO live performance #2
Venue: YAMAMOTO GENDAI
Admission: Free
Gallery opens regular hours from 11:00 to 19:00.
Event preparation will start around 14:00 and seating will be provided on a first-come first-served basis.
Guest: Minoru Hatanaka (Chief Curator, NTT InterCommunication Center [ICC]) Born in 1968. Since 1996, Hatanaka has been involved in the inauguration of ICC, and has curated a number of exhibitions after its opening. He activity is extensive, including curation of solo exhibitions by artists such as Dumb Type, Meiwa Denki, Laurie Anderson and Kazuhiko Hachiya, as well as organization of music events and writing on music, sound and media art. His latest curation "ISOZAKI Arata: SOLARIS" will open on December 14 at ICC.
—–
YAMAMOTO GENDAI is delighted to present BE A GOOD BOY, a solo exhibition by UJINO, from 16th November through 14th December 2013.
UJINO is known for his sound sculptures including Love Arm series, assembled from everyday electric appliances that are not originally associated with musical instruments, and for his performances using the sound sculptures. His The Rotators series, a project of beat making machine with turntables and modified vinyl discs, developed as an advanced form of sound sculpture, has won him an international recognition and following exhibitions worldwide, which made him more actively engaged in projects outside the country in the past years. In March this year at the Hakone Open-Air Museum, UJINO's first Japanese museum solo exhibition POP/LIFE opened with much expectation, comprehensively covering five key series from his long creative career from the early 90s.
His latest exhibition BE A GOOD BOY will feature new works from the following three series — to present the latest outcome of the artist's continuing "research on the material world".
Works of Love Arm series are made of decorative lamps that originates from American vintage cars and are often used in Japanese "Deco-Tra" (heavily decorated trucks) , power tools and motorbike components. UJINO attaches Love Arm to his body and play it by controlling strong flashlights and amplified sounds. In this project UJINO reflects on material and consumer culture that swept the world, from a perspective of Rock'n'Roll and pop music, the fruits of the twentieth century American culture later to be fanatically welcomed in Japan. Masculinity that filled the age is symbolically suggested in the entire project.
In Nippon Series, the artist gave decorative forms to misused or odd English phrases often found in the 20th century Japan. This series comically reveals what UJINO describes as "the sense of awkwardness that occurs when Katakana syllabary is assigned to a foreign word whose concept is difficult to transcribe into Japanese, or when a word becomes modified in order to make it more fitting in the Japanese language environment".
Machine Theater, the dance installation series of machines, consists of moving clothes on motored windscreen wipers suspended in the air and amplifiers to play beats. While machines move just like machines, the movement of clothes carries slight sense of human presence, and the window screen wiper motors make noises like roaring beasts. In addition to sounds, video is expected to be incorporated in the latest piece of the project to be on view at this latest exhibition.
YAMAMOTO GENDAI