Artist:contact Gonzo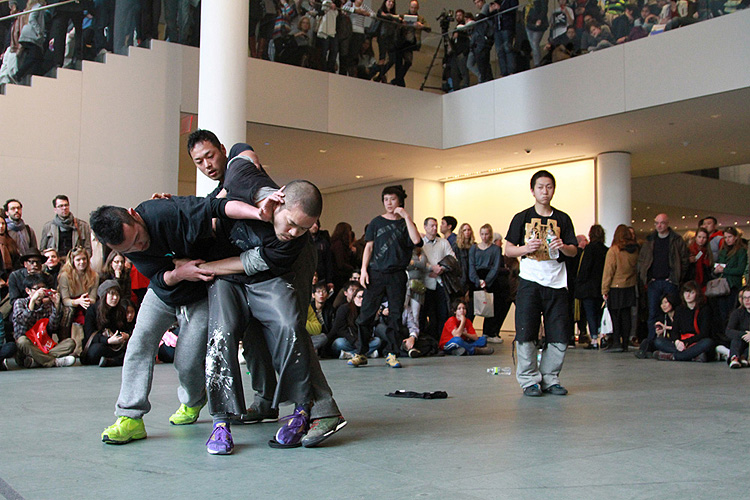 contact GONZO "Trace and sound of work accompanied by various difficulties"
2014/04/18日(Fri) – 2010/05/17(Sat)
!!!Reception for the artists & Performance!!!
18:30-20:30, Thursday, 17th April, 2014
YAMAMOTO GENDAI is pleased to present "Trace and sound of work accompanied by various difficulties", a solo exhibition by contact Gonzo from 18th April though 17th May 2014.
"contact Gonzo" is a method and a group developed and named by Masaru Kakio and Yuya Tsukahara in 2006. The name refers to a methodology of attempt to unveil the mechanisms of the world in their own perspective through a number of momentary events that result from "contact", a physical phenomenon to occur between people, based on "philosophy of pain, technique of contact". The term "Gonzo" means eccentric in slang and refers to Gonzo Journalism, a movement formed in the 1970s bringing "subjective" judgment in journalism opposing to what had been considered "objective" in the style of reporting and making the subject of report vague in the end. Kakio and Tsukahara see Gonzo Journalism as a way to destroy the territory of journalism from within, and borrowed the word in the name of their activities.
This exhibition "Trace and sound of work accompanied by various difficulties" will not only explore physical contact between the members, but also the relationship between the body of each member and "difficult" situations. Performance begins with setting up the gallery space from waste materials produced while they scrapped and rebuilt Gonzo office in Kansai Japan. After wrapping themselves with carton boxes and carrying their own portraits on their back, they will struggle to travel on the walls from the gallery entrance through the scrap-built space without their feet touching the ground, while getting hit by almost insane "attack" with fruits thrown at a speed measuring up to 100km/h. Goal of their "climbing" is to display their portraits at designated locations, and the exhibition is to record happenings during the process of installation (= under-installation) like forcing hard discipline on themselves, as well to display the traces of movements and tasks. As if the gallery is a battle field and the members travel in the air avoiding falling bombs and land mines with their feet off the ground, they resist the gravity that directly affects their body and try to archive the goal to set up the installation. Record of this entire process of becomes a "piece of art", ending up in a nested structure.
It is a very thrilling attempt for us to present the "traces" of extreme movements realized by human bodies through tasks under hard conditions and simultaneously recorded "sound". It is also our pleasure to share with the artist and visitors the enthusiasm and challenge how to present such a practice as an installation within a gallery space, not only being improvisational.