Artist:Shinichi HARA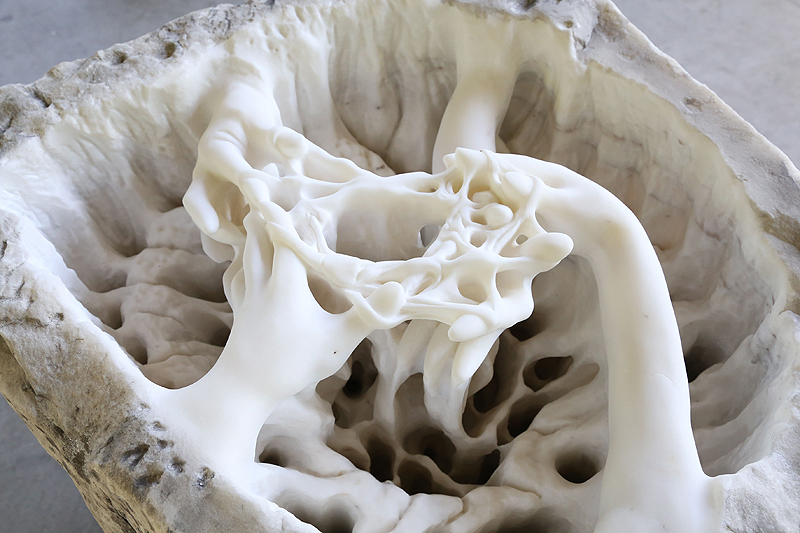 Shinichi HARA solo exhibition "TORORI"
2014/08/23(Sat) – 2014/09/20(Sat)
Opening reception:2014/08/23(Sat) 18:00 – 20:00
YAMAMOTO GENDAI is pleased to present "TORORI", a solo exhibition by Shinichi HARA from 23th August through 20th September 2014.
Born in Ibaraki in 1964, Hara received training in sculpture at Tokyo University of the Arts, and works mainly with white marble. He received honorable mention of Kirin Art Award in 1999 and has been actively presenting his works in a number of group exhibitions.
"White Summer – Cha・Cha・Cha O mimi", an oversized marble sculpture consisting of a countless number of ears wiggling to cover the entire sculpture and a girl whose body parts fusing into the surrounding, attracted much attention in "Roppongi Crossing 2007: Future Beats in Japanese Contemporary Art" (2007, Mori Art Museum, Tokyo). For "Subjective Objects" (2011, YAMAMOTO GENDAI, Tokyo), he presented a sculpture of a bride in silk floss headdress that seems holding a bird in her mouth or emitting ectoplasm. This piece enjoyed an extraordinary presence for its voluptuous beauty among other works in the exhibition. In his 2011 solo exhibition at Art Gallery X in Tokyo, he explored new directions using materials and techniques like bronze, collage and drawing.
Hara titled the exhibition "TORORI" in reference to Derori*, a term coined by Ryusei Kishida, a respected modern Japanese painter, to describe a repellent yet compelling sensuality with certain heaviness in the portrayal of people. Hara argues that Torori is something like Derori with its harshness eliminated, and his sculptures to embody Torori have quiet and exquisite appearance like snow-covered earth at first sight. If looked closely, however, body parts like hands, ears, teeth and gums, or a ghost-like long hair woman carry static sense of terror, making the viewers feel like they have stepped into the realm of uncanny.
New work "Cat's Cradle" (2014) captures the traditional play disappearing in the rising popularity of electronic games, represented in a progressive state of melting in which delicate fingers and an entwined string in polished marble merge into the rough rock surface surrounding the fingers. A piece to portray a snowscape of Japanese northeast region, "Spring Snow" (2014) has a hole in its center, as if the center has gradually melt through due to high heat, which is reminiscent of nuclear reactor core meltdown that we actually cannot see with our eyes (or our body will melt down). One may find that this artwork is taking a shape of the national flag of Japan loosely placed over a large rectangle. While these works are lustrous and smooth, they both make ironical reference to our dependence on electricity.
This exhibition will be Hara's first solo presentation at YAMAMOTO GENDAI after several group exhibitions and art fairs. We hope this will be a great opportunity to introduce the works of Shinichi Hara, who sculpture the continuous state of an object melting to transform into another with a significant material quality.
—–
*Derori : a term referring to heterodox aesthetics of Japanese art, discovered and coined by a Japanese painter Ryuisei Kishida (1981-1929). According to Kishida, characteristics of Derori typically include "slimy portrayal of face expressions charged with almost repellent rawness of life, distinctive in the features of Asian people" and being "peculiarly sticky, dark in color and seemingly vulgar."