Artist:Richard SERRA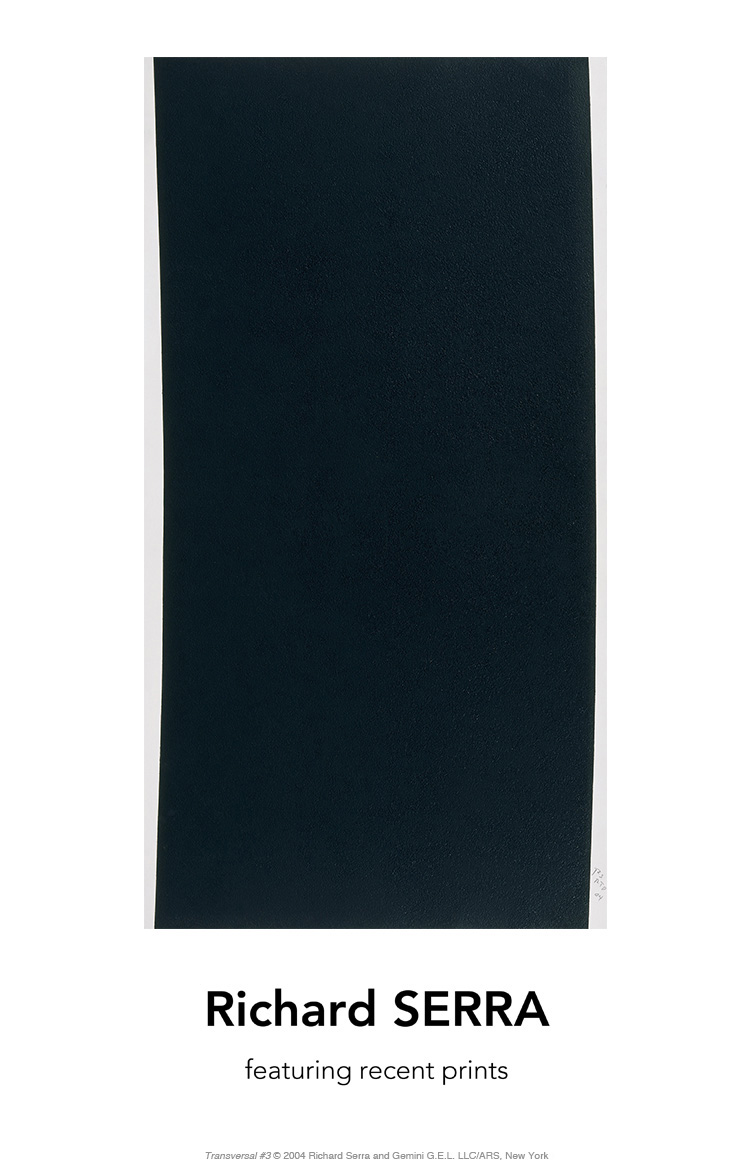 Richard Serra solo exhibition "featuring recent prints"
2014/03/08(Sat) – 2014/04/05(Sat)
Saturday, 8th March – Saturday, 5th April, 2014
Opening Party 19:00 – 20:00, Saturday, 8th March, 2014
*Due to the following event, gallery space will be closed between 18:00 and 19:00. We apologize for any inconvenience.
Happening at the same time: Shirokane Art Complex Joint Opening Reception and Special Event
Divine Comedy, a performance by Hiroshi Sugimoto 18:00 open
*This event is strictly reservation only. Thanks to high demand, the event is fully booked.
YAMAMOTO GENDAI is pleased to present "Richard SERRA featuring recent prints", from 8 March through 5 April, 2014.
Known for large scale and site specific projects using steel plates, Richard Serra is undoubtedly one of the most important figures in contemporary sculpture. At the age of 74 now, he is still rigorously engaged in production of new works and exhibitions throughout the world.
In parallel with his sculptural experiments, Serra began to work with drawing as a means to explore recognition of space and relationship between one's body and space at the beginning of 1970s. He uses blocks of paintstick, and smears extremely large surfaces with a thick coat of black in pursuit for visual and physical effects that cannot be achieved by conventional ink or charcoal. The surface of heavy black paintstick has been sophisticated and emphasized to create tension as if each piece has been given gravity to dominate the site. Spatial qualities of Serra's sculpture, such as long torqued surfaces and composition of rectangular volumes, well appear in his drawings. From 2011 to 2012, a major exhibition of his drawings "Richard Serra Drawing: A Retrospective" was held and toured to 3 museums in the United States starting at the Metropolitan Museum of Art in New York.
From 1972, Serra also produces a series of etching works. Diverse textures found in his drawings are reproduced in ink, making possible the heavy expression that would have not been imaginable in traditional prints. On view in this exhibition will be selected prints from his recent production including large pieces measuring over 2 meters in height.