Artist:Kohei KOBAYASHI
Kohei KOBAYASHI Solo Exhibition
"The lid will not open, footsteps on the roof"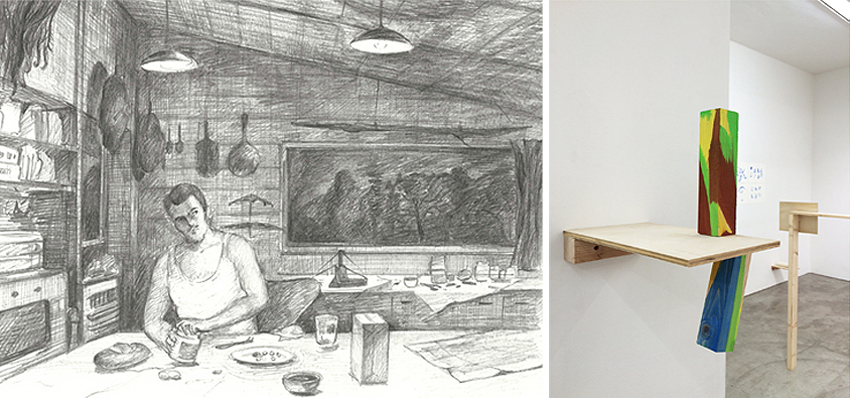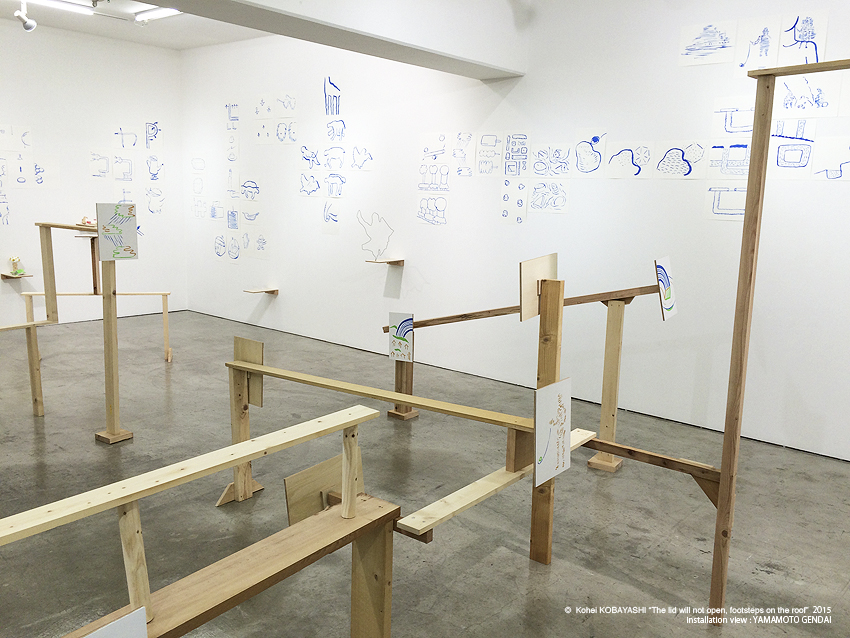 2015/10/03(Sat)- 31(Sat)
Open daily from 11am – 7pm / Closed on Sunday, Monday and National holidays
Opening reception:10/03(Sat) 18:00 – 20:00
YAMAMOTO GENDAI is pleased to announce The lid will not open, footsteps on the roof, a solo exhibition by Kohei KOBAYASHI from 3rd through 31st October, 2015.
While Kobayashi is most known for video works, this exhibition comprises assembled objects, drawings and accompanying texts. In recent years Kobayashi worked with several collaborators and produced his works based on "dialogues" that developed in the course of correspondence and demonstrations conducted with them. However for this exhibition, the artist conceives individual exhibit after tackling texts and proposed questions, and explores an inquiry "Is an object as a dialogue possible?" through the exhibition as a whole.
In the development of his artworks Kobayashi pays attention to things that fall off from central subjects, and to situations where misunderstandings or extemporaneous fictions made one after another turn into a leap. For example, Kobayashi considers that imagery instantaneously emerged in a situation, where one happen to pretend to know something and end up desperately having to keep doing so, is a result of an "tremendous leap of imagination". We are greatly fascinated by the moment when "meaning" grows out of such leap and the moment we find reality in it.
Kobayashi's drawing The lid will not open, footsteps on the roof for this exhibition is made based on an image that the title literary suggests – a rough man in a rugged shed, giving ear to sound from above with his hands on a bin and its lid. We cannot stop our imagination grow further in the gap between this very ordinary scene and the tension in the title. Titters and humor triggered here are important elements of Kobayashi's works as well.
This exhibition will be a great opportunity to experience the bare trace of Kobayashi's thinking, along with his acclaimed installation in Artist File 2015 – Next Doors: Contemporary Art in Japan and Korea, currently on view at The National Art Center Tokyo.