Artist:Erina MATSUI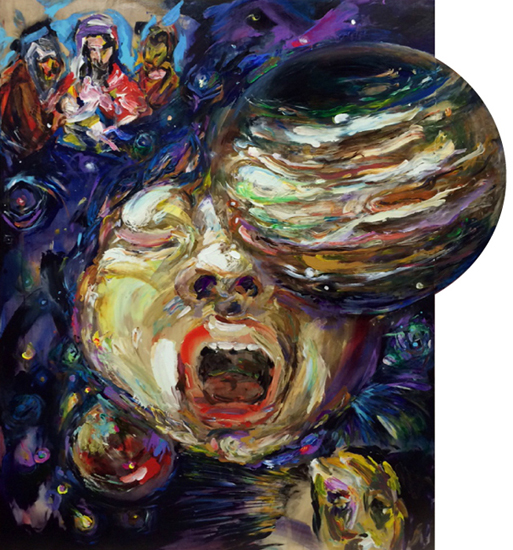 Erina MATSUI Solo Exhibition
"Manga Mind Serenade − non-stop painting"
2015/11/14(Sat)- 12/12(Sat)
Open daily from 11am – 7pm / Closed on Sunday, Monday and National holidays
Opening reception:11/14(Sat) 18:00 – 20:00
YAMAMOTO GENDAI is pleased to present Manga Mind Serenade – non-stop painting, a solo exhibition by Matsui Erina from Saturday 14th November through 12th December, 2015.
Matsui has been known for "Hengao (funny face)" self-portraits with spectacles stretching in the background. In the recent years, the artist has re-examined self-portraits that appear in history and the history of painting itself, and deepened insight into the origins of her own work. After 3 years since her last solo exhibition in 2012, Matsui will present a new body of work including reinterpretations of classical masterpieces through a Manga perspective, and self-portraits painted in a new style leaving raw traces of strokes made by the artist's hands and fingers.
For the artist, painting had been a realm that allowed her to freely build an impossible utopia just "like in Manga", and also a means to portray an ordinary everyday moment amplified at a large scale "like Manga". Much influenced by Manga and Anime, Matsui recalls herself worshipping girls comics like The Roses of Versailles and Candy Candy, which strongly roused longing for the West, and being captivated by blond girls as well as Western culture itself in her childhood. While she has made portraits of herself turning into these idols, most of her self-portraits depicted a comical and heavily deformed face, which is called "Hengao" in Japanese pop culture. "Hengao" is a trend appeared among young generation that hopes to share emotion and laughter with others through their own silliness. Born in the 1980s, Matsui embodied the time on her canvas and caused a sensation in the field of painting.
In the course of examining painting and self-portraits in recent years, Matsui realized that most of classical Western paintings are ones by masters like El Greco, Sandro Botticelli, Gustave Moreau, in which a narrative is portrayed within one picture plane. When she came to notice these paintings' resemblance to girls comics of her childhood longing and rather much influence of Western paintings on the comics, she for a moment took a distance from self-portraits, which she had been painting since the beginning of her career, and began to produce pieces to "reinvestigate" Western paintings in her own way. According to the artist, tracing classical paintings with her own fingers left an effect like reading a biology, enabling her to synchronize with the thinking of the original painters.
The latest self-portrait she returned after re-examination of the classics, Jupiter Attack! is painted by her hands and fingers with acrylic paint on panel. A large circular element of Jupiter extending out from the panel is attacking Matsui's face, and a few scenes of El Greco's works are included in the background like scenes of remembrance that appear in Manga. The Jupiter seems analogous to the artist's shock from the classics, and this self-portrait well expresses the artist's determination to face self-portraits afresh by painting directly with her own body in order to depart from realism and incidental "skillfulness". Matsui's new works embraces her suspicion that "in the time of faceless communication on the internet, people hide their faces and speak irresponsibly and end up unconsciously creating a faceless world" and strong belief in "the infinite expanse and potential like the universe" that she feels in a "face that delivers numerous information like anger, laughter, sorrow by moving mimetic muscles just by one millimeter."
This exhibition will be a great opportunity to trace the artist's thinking process, and we look forward to your visit.