Artist:
The Backers Foundation and AIT residence programme vol.8
"Today of Yesterday"
New works by RATTANA VANDY and KANITHA TITH, Cambodia
2015/07/11(Sat) – 2015/07/25(Sat)
Opening Reception: 2015/07/11(Sat) 18:00 – 20:00
Open daily from 11am – 7pm / Closed on Sunday, Monday and National holidays
Organised by Arts Initiative Tokyo (AIT)
Co-organized by The Backers Foundation
Supported by YAMAMOTO GENDAI, YOKUMOKU and EASTWEST Inc.
YAMAMOTO GENDAI is pleased to announce "Today of Yesterday", a group exhibition by two Cambodian artists through July 11th until July 25th, 2015. The exhibition will mark the 8th time that The Backers Foundation and AIT have partnered on their joint residency programme and will present works by two Cambodian artists in residence, Rattana Vandy and Kanitha Tith.
Vandy is an artist who utilises video and photography to create works that touch on history and memory. A self taught photographer, he has featured in international exhibitions such as "dOCMENTA (13)" and is currently showing alongside other emerging artists at "TIME OF OTHERS", Museum of Contemporary Art Tokyo. With experience as a journalist, his previous works include "Preah Vihear", a photographic series showing the modest everyday circumstances of soldiers involved in border disputes, and "Bomb Ponds", a photo-based project that documented the ponds that have emerged at sites bombed by the US military during the Vietnam War.
Vandy takes a poetic approach to interpreting fragmented memories and remnants of human existence, in turn offering an alternative perspective on history. For this exhibition, he will present "Bomb Ponds" and "MONOLOGUE", the latter being his latest video work that is based on the stories of the people who lost their lives during the 1970s' Khmer Rouge era. Furthermore, "Shadow in the Dark", a new work produced in Tokyo that comprises of poetry and sculpture made from countless nails – a reflection upon the emotions and spirituality of the inner self.
Tith is an artist who produces works across a range of media including sculpture, installation, video and performance. In 2010 she received an honourable mention at the inaugural You Khin Memorial Women's Art Prize, an award that recognizes contributions to improving the rights and social status of women in Cambodia. Two years later she participated in "SurViVart", a community project aimed at promoting art and dialogue in Cambodia, for which she invited people to gather and exchange ideas at her house in Phnom Penh.
Tith's thin wire sculptures are delicate and powerful monuments that she creates through a near-meditative process, not only as an examination of her own memories and experiences, but also a reflection on the impact of her country's social circumstances. For this exhibition, Tith will present a new sculptural work based on her research questioning about the relation to the interpretation of "Spirit" in Southeast Asian ritual culture.
Like much of Southeast Asia, Cambodia has experienced rapid economic and social changes in recent years. On the other hand, complex social circumstances and historical oblivion have resulted in few opportunities to learn of the country's hidden imagination. Influenced by the ephemeral things that emerge from society and time, the fresh perspectives of today's young artists can give weight to the idea of today being a continuation of the past.
---
Rattana VANDY (Born in 1980 in Phnom Penh, Cambodia)
Vandy lives and works between Phnom Penh, Paris and Taipei. In 2007, he was one of the co-founders of Stiev Selapak / Art Rebels, and in 2009 he was also one of the co-founders of Sa Sa Art Gallery. He contributed, in 2011, to establish SA SA BASSAC, the first dedicated exhibition spaces for contemporary art in Cambodia. Vandy Rattana began his photography practice in 2005 concerned with the lack of physical documentation accounting for the stories, traits, and monuments unique to his culture. His serial work employed a range of analog cameras and formats, straddling the line between strict photojournalism and artistic practice. His recent works mark a shift in philosophy surrounding the relationship between historiography and image making. For Vandy, photographs are now fictional constructions, abstract and poetic surfaces, histories of their own. He lately began interested in film-making. The short-film "MONOLOGUE" is his latest work. In 2014, he co-founded Ponleu Association, which aims to provide access to international reference books, through their translation and publication in Khmer. It also publishes its own books, focusing on various fields of knowledge (philosophy, literature, science, etc.)
www.vandyrattana.com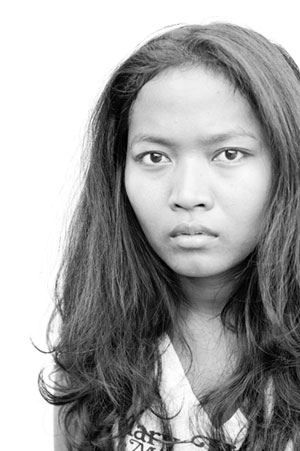 Kanitha Tith (Born in 1987 in Phnom Pehn, Cambodia)
Tith lives and works in Phnom Penh, she works revolves around the production of sculptures and installations that investigate the possible relationships between the artist's personal experience and memories and her environment, namely the fast-changing landscape of Cambodia. Her sculptural work made of woven metal strings are informed by her childhood memories and combine her interest in the relationship between human and non-human form with spatial strategies that straddle Tith's domestic sphere with the public arena. The material used by the artist – metal strings, found traditional cooking stoves or collected objects belonging to her neighbours – pertains to the realm of daily Cambodian material culture. By so doing, Tith questions the status of the artist and its potential to engage with issues of community, gender and women's identity. The artefacts created by Tith thus act as documents of the effects of the economic and social development in Cambodia on the private and urban spheres, on the individual and her environment, and formulate a visual poetics that evoke the possibility of change. Tith collaborates on film (with French-Cambodian filmmaker Chou Davy) and music (with the American Cambodian band Dengue Fever) projects and is active as a costume designer.
The BAR(The Backers Foundation and AIT Residence Programme)vol. 8
「#Today of Yesterday#
AIT Press Release