Artist:Kei IMAZU, Kohei KOBAYASHI, Nile KOETTING, UJINO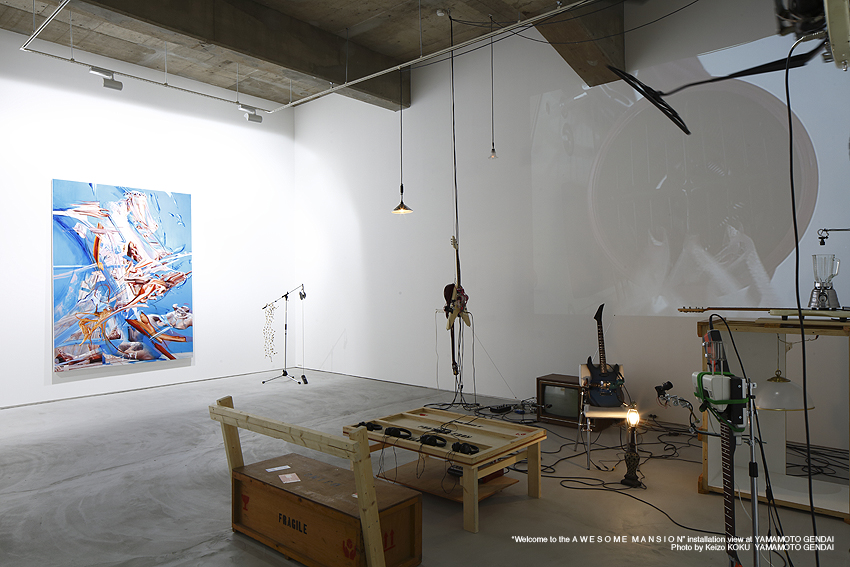 "Welcome to the A W S O M E  M A N S I O N"
Opening reception:2016/09/10 (Sat) 18:00-20:00
YAMAMOTO GENDAI is very pleased to present our first show
" Welcome to the A W S O M E M A N S I O N "
in the relocated new gallery space in Shinagawa area Tokyo, from 10th September through 15th October 2016.
Welcome to the A W S O M E  M A N S I O N will feature: Kei Imazu's new large paintings, a human-like piece by Nile Koetting, and Kohei Kobayashi's video work, along with UJINO's living-room-set-like The Rotators series installation.
Nile Koetting (b.1989) is a Berlin based artist who works actively and freely across genres of video, installation, sound art and performance, and currently included in the group show GLOBALE: New Sensorium at ZKM Karlsruhe Germany.
Kei Imazu (b.1980) has been working in the media of painting throughout her career, developing a distinct methodology to digitally combine miscellaneous images she collected in her everyday life as well as numerous found images on internet, presenting the artworks whose strength of presence outstands through iconoclasm along with the artist's vision to reinterpret the history of painting.
Most known for experimental video works, in recent years Kohei Kobayashi (b.1974) has practiced a number of live demonstrations to extend such processes explored in his work. His new installations will be on view both in Aichi Triennale 2016 and Setouchi Triennale 2016.
UJINO (b.1964) is known for The Rotaors series, a series of sound sculptures made of home electric appliances, and his new Rotator installation will be presented in this show. His large-scale solo exhibition "Audio Distortion does not Distort Matter" is currently on view in Nizayama Forest Art Museum, Toyama.