Artist:Naohiro UKAWA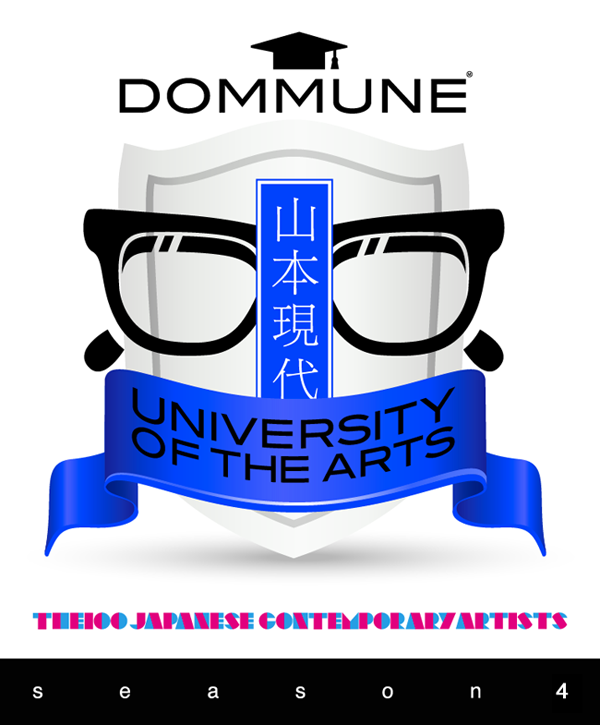 ©Naohiro UKAWA / DOMMUNE
Naohiro UKAWA DOMMUNE UNIVERSITY OF THE ARTS
「THE 100 JAPANESE CONTEMPORARY ARTISTS / season 4」
【Artists】Taro OKAMOTO, Susumu KOSHIMIZU, Shiro TAKATANI, Yoshitomo NARA, Akira YAMAGUCHI
2016/05/28 (Sat) – 06/18(Sat)
Organized by DOMMUNE + YAMAMOTO GENDAI
Venue:YAMAMOTO GENDAI *online live broadcasting also taken at DOMMUNE
3-1-15-3F, Shirokane, Minato-ku,TOKYO 108-0072 Japan
Gallery hours:11:00 – 19:00(closed on Sundays, Mondays and National holiday)
Co-organized by Taro Okamoto Memorial Museum, Kodama Gallery, TOKYO GALLERY+BTAP, Mizuma Art Gallery
DOMMUNE broadcasting talk shows schedules
05/10 (Tue) 18:00-
"THE 100 JAPANESE CONTEMPORARY ARTISTS#028 Shiro TAKATANI"
Shiro TAKATANI x Mayu Tsuruta (Actress)
05/23 (Mon) 19:00-
"THE 100 JAPANESE CONTEMPORARY ARTISTS#029/Susumu KOSHIMIZU"
Susumu KOSHIMIZU x Hozu YAMAMOTO (Director of Tokyo Gallery + BTAP)
05/26 (Thu) 19:00-
"THE 100 JAPANESE CONTEMPORARY ARTISTS#030/Yoshitomo NARA"
Yoshitomo NARA x Michihiko YANAI (Creative director, Associate professor of Tokyo University of the Arts Department of Design)
06/03 (Fri) 19:00-
"THE 100 JAPANESE CONTEMPORARY ARTISTS#031/Akira YAMAGUCHI"
Akira YAMAGUCHI x Naohiro UKAWA
06/13 (Mon) 19:00-
"THE 100 JAPANESE CONTEMPORARY ARTISTS#032/Taro OKAMOTO"
Yoshitaro INAMI (scholar of archival science and media cultural history) x Hajime NARIAI (Curator of Tokyo Station Gallery, Basic Art)
Talk shows and more detail information can be seen at www.dommune.com
DOMMUNE, organized and directed by Naohiro UKAWA, is an online streaming platform for broadcasting talk shows and live performances from the leading edge of culture to the world. Since its inauguration in March 2010, its viewers have grown over 10,000 per program and the total number of viewers has reached 45 million. Naohiro UKAWA is an omnidirectional artist known for his extremely wide range of creative activities as a video artist, graphic designer, VJ, writer, college professor, and "Genzai (just now)" artist among many others.
DOMMUNE's latest and ongoing project, THE 100 JAPANESE CONTEMPORARY ARTISTS features 100 leading artists whose distinctions are at the forefront and towards the next generation of Japanese contemporary art, and broadcasts live talk programs that thoroughly cover these artists' personal histories and artistic perspectives. After live-streaming, the show is archived and brought into the gallery's white cube, and made viewable exclusively as a part of the exhibition, along with the artists' original artworks.
THE 100 JAPANESE CONTEMPORARY ARTISTS was first presented at 3331 Arts Chiyoda in 2014. This project continues to explore the intricately entangled issues of live and recorded experiences, and of aura and catharsis.