Artist:Kei IMAZU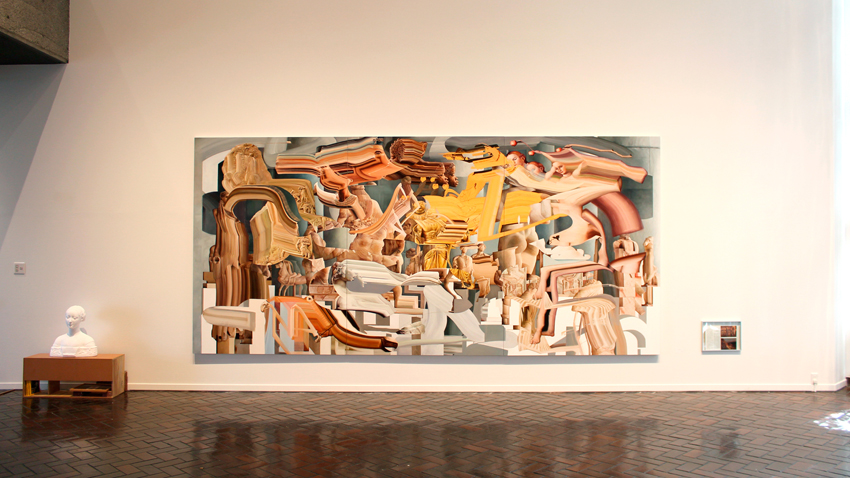 ©Kei IMAZU "Repatriation"
Installation view at Tama Art University 2015

Kei IMAZU "Repatriation"
2016/01/16 (Sat) – 30 (Sat)
Open daily from 11am – 7pm / Closed on Sunday, Monday and National holidays
Opening reception:2016/01/16 (Sat) 18:00 – 20:00
YAMAMOTO GENDAI is pleased to present Repatriation, a solo exhibition by Kei Imazu from 16th through 31st January 2016.
The piece central to this exhibition, also titled Repatriation, is the largest Imazu has ever made until now. The painting was first exhibited at the 80th Anniversary Exhibition of Tama Art University last year for a few days, and we wished to have another opportunity to bring this great work to larger audience in celebration of the new year.
Majority of the subjects in Repatriation are taken from the exhibits and the spaces of Acropolis Museum in Greece, alongside a number of other rooted and destructed artifacts and artworks. Imazu has accumulated images of unreturned, rooted and destructed artworks and artifacts mostly found on the Internet, and painted them on canvas after digital editing. These objects of art are fragile and at risk in their existence, but "affirmed" through painting, distorted and stretched in paint.
We look forward to your visit to this new presentation that displays perspectives of the artist, who aims to emphasize the "material" nature of artworks and reconstruct their imagery.