Artist:


©Ushio SHINOHARA "Gold and Silver from Acacia", 2006, Acrylic on canvas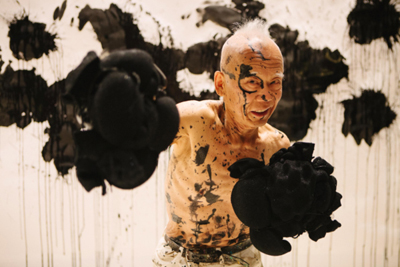 Photo by James Ware Billett
Ushio SHINOHARA solo exhibition, "Boxing Explosion on My Painting!"
2017/03/11 (Sat) – 04/22 (Sat)
Gallry hours: 11:00-18:00 (Tue / Wed / Thu / Sat) / 11:00-20:00 (Fri)
Closed on Sundays, Mondays and National Holidays
Openning reception:2017/03/11 (Sat) 18:00 – 20:00
Boxing Painting performance: 2017/3/11 (Sat) 19:00 –
YAMAMOTO GENDAI is very pleased to present Boxing Explosion on My Painting!, a solo exhibition by Ushio Shinohara from March 11th through April 22nd, 2017.
Shinohara was born in Tokyo in 1932. He started his artistic career by participating in the Yomiuri Independent exhibition in 1955, while studying at Tokyo National University of Fine Arts and Music. In 1960s, during a social turmoil after the World War II, he was among a group of artists that formed the "Neo-Dadaism Organizers" where they agitated art and his works overturned common sense. As he took a leading role in the group, he enthusiastically showed his work Coca-Cola Plan (1966) under the same title Coca-Cola Plan by Robert Rauschenberg and Drink More (1964), also under the same title by Jasper Jones in a series of Imitation Art. Much discussed works from his Oiran Series that vibrantly painted faceless Japanese high-class courtesans were presented one after another with a mixture of his distinctive view of Japanese tradition and the expression inspired by American Pop Art.
In parallel, since around 1959, the physical action has been practiced that later named Boxing Paintings which received much attention and recognition as the signature elements to his works. At the early stage, this action was considered as a pure being and most important by him. The papers, hit by the boxing method were crumpled and no works remain today except some documentation including a compiled photographs, Tokyo (1964) by William Klein. In 1969, he left for New York where he currently lives and works.
Most of his paintings leave a wild trace of brushing touch and show us elements of pop culture. Motorcycle sculptures employing scrap materials and cardboards have been created for a long time and recognized as one of the well-known series along with his paintings. In the golden era of Pop Art, numerous images had flowed by advertisement and media and reflected overly-supplied, carefree mass consumption society.
In 1990s, the series of his signature Boxing Painting came back to his practice. Boxing Painting literally confronts straight forward with an object and grapples with himself, canvas, audience and our society. There is no time to think of its composition and how much pressure to give when waves of punches are being thrown from right to left. His action immediately overtakes consciousness which his punches purely become work itself.
— I do my Boxing Paintings from right to left, bam bam. I don't think at all about composition or nuances of paint handling. The speed of punching with boxing gloves on both hands with paint on them must coincide with the speed of thinking. Therefore, thinking becomes very limited. The hands are faster. So my hands lead my thoughts, not the other way around.
What he values is to invite an audience being present with him. Boxing Painting is performed in front of the audience and cameras. This consequents that finishing a painting is not in his priority but sharing and witnessing the liberation and excitement along with the artist being in a trance state is crucial. This characterizes the action and the work as a linear relationship while he is exposed in front of the audience and the canvas transmits everything such as a splash of paints, noise from the audience and the action with his credo, "Be speedy, beautiful, and rhythmical".
Neo-liberalism accelerates inequality on many levels in today's society, and he has been active as an artist for nearly 50 years in the economy capital of America.
We are thrilled to present his solo exhibition almost after 10 years in Japan. This exhibition centers and introduces his epic pieces from Boxing Painting, created in the early stage of 2000s. In conjunction, his Boxing Painting performance will be held at the opening of the exhibition. We hope you can join us for this unique opportunity.
<Ushio SHINOHARA talk session at DOMMUNE!>
Recording schedule:2017/03/16 (Thu) 17:00-19:00 *Studio visit available
On-air schedule:2017/03/16 (Thu) 19:10-21:00
Venue:DOMMUNE Tokyo, Shibuya, Higashi, 4-6-5-B1F
For more information, please check DOMMUNE website.