Artist: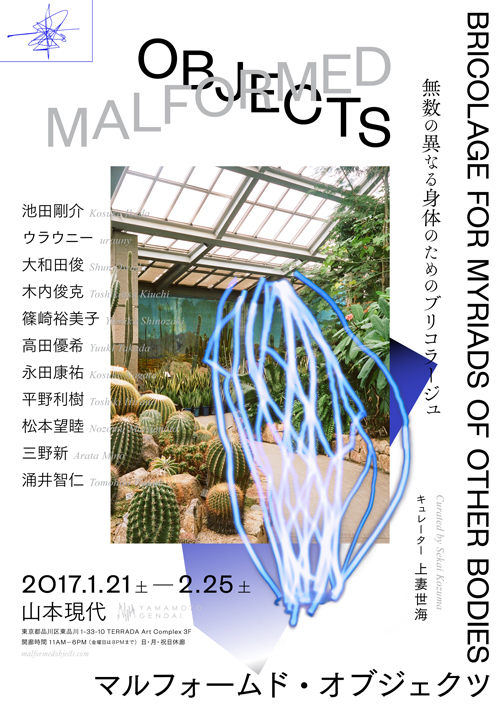 © Shun Ishizuka
Malformed Objects – Bricolage for myriads of other bodies
2017/01/21 (Sat) – 02/25 (Sat)
Gallery hours:11:00 – 18:00 (Tue / Wed / Thu / Sat) / 11:00 – 20:00 (Fri)
Closed on Sundays, Mondays and National Holidays
Openning reception:2017/01/21 (Sat) 18 : 00 – 20 : 00
Curated by Sekai KOZUMA
Artists participated:
Kosuke IKEDA
urauny
Shun OWADA
Toshikatsu KIUCHI
Yumiko SHINOZAKI
Yuuki TAKADA
Kosuke NAGATA
Toshiki HIRANO
Nozomu MATSUMOTO
Arata MINO
Tomohito WAKUI
YAMAMOTO GENDAI is proud to announce "Malformed Objects – Bricolage for myriads of other bodies" curated by Sekai Kozuma, from 21st January through 25th February 2017.
Born in 1989, art critic and curator Sekai Kozuma authors studies and articles while curating art exhibitions. Revolving around "production and commonality" as his theme right from their start, his activities freely range over a diversity of domains, from contemporary thought to anthropology, and draw on the theories of thinkers including Gilles Deleuze, Graham Harmon, and Eduardo Viveiros de Castro. Making a stunning impact, his article titled "Toward a Community of Production" and published in the December 2016 issue of "Bijutsu Techo" art magazine set forth the genesis of commonality through the medium of production in a society where cyber space and physical space would breed a real space while linked in a feedback loop. In addition, he curated the Prototypes of Worldmaking exhibit held in 2015 and collaborated with artists who produced works applying feedback loops linking cyber and physical space. The works had devices that automatically made collages on the exhibit website using images uploaded on SNS by viewers, and had them output on the printer in the exhibition space as soon as they were added. As this evidences, Kozuma has handled feedback loops between cyber and physical space in numerous ways.
This exhibit unfolds on the stage of works and space created upon repeated dialogue with 11 artists. Kozuma is planning to display an instruction sheet for visitors and both deform and multiply their bodies during the run of the exhibit. To this end, he is preparing a series of events including a talk session, mutual creation, and workshop. He regards this as a kind of practice for experience of the oscillation of time between past and future as opposed to a single axis of the here and now, while taking leave of the framework of a viewer as subject viewing objects, instead placing objects, information, and people on the same plane, and involving forms, colors, shading, functions, purposes, and other factors on the periphery of the expected purpose.
Kozuma's production as curation is motivated by a sense of alienation from contemporary society. A new and complex society is taking shape with the inter-nesting of cyber and physical space, repeated switchover of subject and object in feedback loops, and inter-genesis by them. At the same time, there remain stalwarts who insist on trying to perceive the world in terms of the conventional modern framework. To view the world and build systemic arrangements and contexts in this framework is bound to cause conflicts because of the huge gap with the actual state of contemporary society. Kozuma believes that we must express these conflicts in all of their complexity as they are, in order to give serious thought to the nature of commonality in contemporary society. To this end, in his papers and articles, he is striving to make contemporary society legible without simplifying it, and delving deep into the theme of "production and commonality" upon identification of the prerequisites. Against the backdrop of this theory, he is also aspiring to visualizations of complex matters with their complexity intact, in the form of exhibits and artworks.
In advance of this exhibition, Kozuma held a symposium in August 2016 and took up three issues there, as follows.
1. Regression by a different type of autonomy
At present, works of art end up being reduced to a relatedness or one of diverse processes, as can be seen in the cases of relational art and process art. Under these circumstances, how can autonomy be constructed in a form different from modernism? Is the production of works that are both autonomous and alluring, with an essence that can never be symbolically exhausted, a viable orientation in the contemporary age? From his pursuit of the flatness of paintings with an emphasis on the uniqueness of the medium, Clement Greenberg extolled "shallow depth" as opposed to sculptural illusion. How can we similarly define the autonomous allure of objects in contemporary society with a historical context?
2. Art for all objects
Let us posit that human beings and their artworks have been deprived of the privileged position in which they alone narrated the world, and diminished in stature to but one of several diverse and autonomous parameters. Once this happens, human beings as correlated media will be given flat existential roles, like animals, plants, and inorganic materials. In this case, each group of objects will be in communion with that group, and there consequently will arise inter-group gaps, because their respective environmental worlds will be different. Awareness of this gap will open up critical perspectives on artworks and constructs as depictions of the human body. This is nothing less than a declaration of art for all objects, humankind included, as opposed to the erstwhile art only for human beings.
3. Construction of autonomous and vicarious causal relationships between theory and practice
In the cosmos of autonomous objects, theory and production lie in a horizontal relationship with each other. This applies to genres as well; philosophy, art, architecture, and informatics will have to breed both autonomous and relational states for themselves. As Nietsche offered criticism of Wagner, and as Beethoven dedicated music to Goethe, the mutually different genres, while maintaining their autonomy, must reboot space to permit mutual intervention, not directly, but in distorted ways.
Kozuma engaged in extensive discussion on these questions with the participating artists, and laid the foundation for constructing the artworks and installations in this exhibit on the basis of the results.
What Kozuma emphasizes is the flow of time belonging solely to objects in themselves as countless relations are built between them and the exhibit visitors. Although we live in surroundings composed of innumerable distinct objects, we normally pay almost no attention to them. Unlike commercial products, however, works of art must possess an allure sufficient to draw all who view them into the time immanent in them. In response to their temptation, the viewer forges multiple ties with them by acts such as looking, listening, and reading, and this induces the genesis of a singular time. Kozuma aspires to the design of experience by visitors of plural forms of reality by means of plural platforms. This is because he believes that only then will objects actually be manifested as works of art. Objects are full of possibilities for form, coloring, function, purpose, concept, and coupling that transcend the intentions of the artist. As components of their allure begetting the next round of objects, they continue to play coquettishly with people and objects. This sets in motion the feedback loop by opening up latent possibilities, turning back to plural temporal axes, and leading once again to objects.
Kozuma shows he can understand that only by viewing the world from the perspective of production can "objects," "information," and "people" be treated on an identical level and linked in mutual genesis. He questions whether attitudes of "appreciation" and "consumption" are proper behavior for handling the complexity of contemporary society.
Objects continue to constantly generate each other by different methods. Bodily behavior and gestures in the "here and now" are not fixed as such; they are constantly being flipped over to a plurality of different temporal axes, and may even become portals to different bodies. In this exhibit, Kozuma is taking aim at the production of not only space but also "body" simultaneously.
We are scheduling various talk sessions and workshops during the run of the exhibit, and will be providing detailed information on the same as we obtain it on our website. We all look forward to your visit.
Talk session schedule
2017/01/23 (Mon) 19:00-21:00
Kei HIRAKURA × Arata MINO × Sekai KOZUMA
Venue:DOMMUNE (4-6-5 Higashi, Shibuya, Tokyo 150-0011)
2017/02/06 (Mon) 19:00-21:00
Yusuke KARASAWA x Takashi SHIMIZU x Sekai KOZUMA
Venue:DOMMUNE (4-6-5 Higashi, Shibuya, Tokyo 150-0011)
2017/02/13 (MON) 19:00-21:00
Yoshio SHIRAKAWA x TAIHEI x Sekai KOZUMA
Venue:DOMMUNE (4-6-5 Higashi, Shibuya, Tokyo 150-0011)
2017/02/16 (Thu) 18:00-20:00
Youichi UMETSU x Sekai KOZUMA
Vennue:YAMAMOTO GENDAI (1-33-10-3F Higashi-Shinagawa, Shinagawa-ku, Tokyo 140-0002)
2017/02/20 (Mon) 19:00-21:00
Toshikatsu KIUCHI x Toshiki HIRANOx Junpei MATSUSHIMA × Sekai KOZUMA
Venue:DOMMUNE (4-6-5 Higashi, Shibuya, Tokyo 150-0011)
Kosuke IKEDABorn in 1980 in Fukuoka, graduated from Kyoto University of Art and Design in 2003, and earned his MFA from Tokyo University of the Arts in 2005. Ikeda has developed his work around his interest in natural phenomena, ecology and energy. His recent exhibitions include "Regeneration Movement" (National Taiwan Museum of Fine Arts, Taichung, 2016), "Ecosystem of Objects" (ABSOLUTE SPACE, Tainan, 2015), "Tomorrow Comes Today" (National Taiwan Museum of Fine Arts, Taichung, 2014), "Aichi Triennale 2013" (Nayabashi, Aichi, 2013), "Melbourne Art-Power Plant" (RMIT Project Space, Melbourne, 2013) and "Tokyo Art-Power Plant" (Tokyo University of the Arts, Tokyo, 2011).www.kosukeikeda.net
uraunyHis art work involves with mainly ready-made goods to attempt the method for life to transform into art and converts in a spatial presentation. His recent exhibitions include X-kai and Parplume (MORITAKAYA, Iwaki, 2016), "urauny" ("meee" Gallery Tokyo, Tokyo, 2016) and "≋wave≋ internet image browsing" (TAV GALLERY, Tokyo, 2014).urauny.tumblr.com
Shun OWADABorn in 1985 in Tochigi, graduated with an MFA from Tokyo University of the Arts. Owada is a sound artist whose electronic sound works and installations are based on his interest in sound, human body, perception and their relation to the environment. His recent exhibitions include "Paleo-Pacific" (Tokyo Wonder Site Hongo, Tokyo, 2015), "Sound Reasons Festival" (1 Shanthi Road, India, 2015) and "unearth" (NTT InterCommunication Center, Tokyo, 2015).www.shunowada.com
Toshikatsu KIUCHIBorn in 1978 in Tokyo, graduated with an MFA from The University of Tokyo. Kiuchi started his professional career at Diller Scofidio + Renfro in New York from 2005 to 2007 and R&Sie(n) Architects in Paris from 2007 to 2011. With Taichi Yunayama, he initiated a research platform "kwwek" to focus on a digital design in the architectural field and In 2012, dirty_differential_delightful was established as his own architecture office. Along with his interdisciplinary practice from architecture and urban landscape design, he teaches and researches computational design at several places such as The University of Tokyo. His recent exhibitions include "Object Disco" (Tokyo, 2016) and "Once in A BlueMoon" (Tokyo, 2015). He also presented at "Materializing [III]" (Kyoto City University of Arts Art Gallery @KCUA, Kyoto, 2015). In 2014, he was awarded at the competition organized by Design Museum Holon to design Urban Shade.toshikatsukiuchi.com
Yumiko SHINOZAKIBorn in 1987 in Fukuoka, graduated with a MFA from Osaka University of Arts. Making 3D-work using ceramics as a material. Her recent solo exhibitions include "Neoplasm" (SNOW Contemporary, Tokyo, 2016), "Yumiko Shinozaki" (Ginza Mitsukoshi Gallery, Tokyo, 2015), "Kiteretsu harlem" (SHUHALLY, Kanagawa, 2013) and "I am hungry" (INAX Galleria Ceramica, Tokyo, 2012). Her works have been seen at numerous group exhibitions "ARTS OF JOMON" (Denver International Airport, USA, 2015 / hpgrp hpgrp gallery, New York, 2013), "Red Bull Music Academy Tokyo" (Red Bull Music Academy, Tokyo, 2014),"ART Dosue – Kyoto Fair" (Hidari Zingaro, Tokyo, 2011), and "The Power of Decoration – A Viewpoint on Contemporary Kōgei (Studio Crafts)" (The National Museum of Modern Art, Crafts Gallery, Tokyo, 2009).yumikoshinozaki.tumblr.com
Yuuki TAKADABorn in 1987 in Chiba. He has been researching how the decision of living creature is being made in computational neuroscience and works on the development of home-use robots and pet robots. With his research and knowledge, his works are produced by hacking the existing device and the system which enables the interaction by numerous people, while examining how different elements are displayed through the communication in quantum-mechanical perspective. His recent exhibitions include "Sound and Vision – Moving Body –" (Tate Modern, Offprint London, 2016) and "Infinite Scroll" (Prototypes of Worldmaking), (HIGURE 17-15 cas, Tokyo, 2015).works.ayafuji.com
Kosuke NAGATABorn in 1990 in Aichi, earned his MFA from the graduate school of Tokyo University of the Arts. His works deal with the relationship of media and image to present his installation and film works using photography and computer graphics as materials. His recent exhibitions and projects include "Materializing[III]" (Kyoto City University of Arts Art Gallery @KCUA, Kyoto, 2015) , "UNCONDITIONAL RESTORATION" (milkyeast, Tokyo, 2015) and "Therapist" (Solo exhibition, Tokyo Wonder Site, Tokyo, 2016).knagata.org
Toshiki HIRANOBorn in 1985 in Hyogo, graduated from Kyoto University in 2009 and earned his M.Arch from Princeton University School of Architecture in 2012 with Suzanne Kolarik Underwood Prize. He has worked for Reiser + Umemoto RUR DPC in New York from 2012 to 2013. He also earned his Ph.D. from the University of Tokyo. He has been a founding partner of Toshiki Hirano Design since 2013.toshiki-hirano.com
Nozomu MATSUMOTONozomu Matsumoto was born in 1990 in Yokohama. In 2014, He founded a virtual aural room "EBM(T)" with the visual artist Nile Koetting. As a curator, he participated "Tokyo Art Meeting Ⅵ "TOKYO" -Sensing the Cultural Magma of the Metropolis" (MUSEUM OF CONTEMPORARY ART TOKYO, Tokyo, 2015-2016). He also works as a sound designer and previously joined "ROPPONGI CROSSING 2016" (MORI ART MUSEUM, Tokyo, 2016) and "Les Liaisons ambiguës" (Maison Hermès, Tokyo, 2016-2017).EBM(T):ebm-t.org
Arata MINOBorn in 1987 in Fukuoka. Mino united the Hippie-b, a theater company that seeks the relationship of photography and physical expression, where he works as a photographer, designer and director. Since 2013, he has taken the theme that is to visualize the premonition of fears within his practices and he plans to initiate the performing theater company, "2 ka 3 (Ni-ka-san)" in 2017. The major projects include "Prepared for Film" (SNAC/G/P gallery, Tokyo, 2014) and "Human, Fish on the shore" (G/P gallery shinonome, 2016). His publication "Z/G" was released by Artbeat Publishers in 2014. He was also awarded and selected for "Emerging Artist Program of Festival/Tokyo12", "The 2nd and the 4th '1_WALL'" exhibition and the second prize at "TOKYO FRONTLINE PHOTO AWARD #04" along with Takashi Honma's prize.www.aratamino.com
Tomohito WAKUIBorn in 1990 in Niigata. His practice includes film pieces, junk parts and audio to combine through the programming to search for primitive possibilities of technology. He radically re-examines the notion of data to find a future development of the history of humanity through art. His solo exhibitions include "Aoi Yasashisa ni Dakarete" (Nao Nakamura, Tokyo, 2012) and "Long, Long, Long" (Garter, Tokyo, 2016). The group exhibition includes "Genkai Toka Ne-Shi, Limiter Cut Shiterushi" (Higure 17-15 cas, Tokyo, 2013), "Tensai High School!!!!" (YAMAMOTO GENDAI, Tokyo, 2013), "Tabikoen (Dorifuto)" (Tokyo Metropolitan Art Museum, Tokyo, 2015) and "Genbutsu Over Dose" (Kitakore Building, Tokyo, 2015).matsuken-sosu.tumblr.com